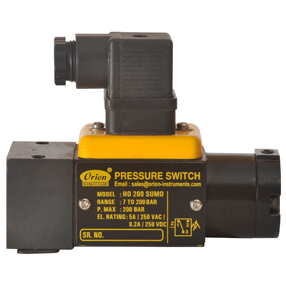 Information
HO series pressure switches have a machined aluminium powder coated enclosure and are recommended for manifold mounting hydraulic applications. The repeat accuracy is better than ±1 % FSR. A connector to DIN 43650 is provided for wiring.
Some Applications
Used in compressors,
hydraulic power packs, manifolds/stacks with
sandwich plates, high/low pressure alarms in
CNC machines etc.
Product Features
Compact
Lightweight
Three mounting styles
Lockable protective cap to avoid tampering (optional)
Electrical rating : 5A, 250 VAC; 0.2 A, 250 VDC(res.) etc.
Support +91-(0) 20-24393577
Opening Time 09-00 AM to 5-30 PM